Quantity are limited
& price are subject to change without notice.
You can reserved your Laser Starting Kit now.
We will keep your Laser
Kit aside for you for
up to 1 year and we will shipped the plan to your home after we received the minimum payment of 50% of the full amount (Shipping & Handling
not included).
Mini Skid Steer Loader
Laser Metal Starting Kit

The laser Metal Starting Kit cost $1199
Shipping & Handling cost $399 for United States
and $250 for Canada, ''ask for quote''

The plan, Technical support & Shipping Insurance are included in the price.
All critical plates are laser cut for greater accuracy and easy assembly.
There is no machining at all with any plates from the laser starting kit.

*** It included the completed detail
plan & the technical Support.

SPECIFICATION

13 HP HONDA ENGINE OR 10 HP DIESEL

EMPTY WEIGHT APPROXIMATE 1300 LBS

STANDARD BUCKET & BLADE 46" WIDE

BUCKET MAX. CAPACITY 5.9 FT3

MAXIMUM SAFE LIFTING CAPACITY 500 LBS

MAX. DRIVE SPEED 4 KM/HR

You make the heavy wall metal bushings yourself, no need pay for machining, only need to followed
the instructions from the plan.
Make the heavy wall metal bushings yourself are much easier than you think.
*** 57 Plates Laser cut for greater accuracy.

*** 4 Weld-on hubs for the axles


Detailed Plan (82 pages)
Easy to understand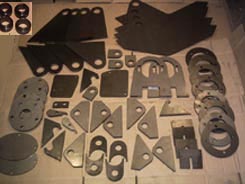 LASER METAL STARTING KIT
Weight 115 Lbs
mini-skid-steer.com does not have any warranty stated & it is the responsibility of the builder to have all liability for
the building, safety & operation of the machine. We are not responsible for any misprint errors that may occur.
Mini Skid Steer Loader Copyright © 2007 All Rights Reserved