\


The Laser Starting Kit Backhoe Model
MID600K (plan has 44 Pages)
Laser starting kit has 36 critical metal plates,
approx. weight 100 Lbs
Plan has specs, bill of material,
list of steel, 2D & 3D drawings,
and step-by-step assembly instruction.
MID600K Towable Backhoe. Included the Detailled Pan + Insurance ship & Tech. Support
Price $949 + Shipping $189 for Canada & $239 for USA

Powered by 5 or 5.5 HP engine
Digs down 7 ft and dump at approx. 6 ft
Swing maneuverability 110 degrees
Bucket reach 8 feet | weight + 550 lb
Bucket 11" wide, Ripping force 2 tons
This backhoe is very compact and heavy duty built. All pins have their own grease fittings.
MID600K Specification

The Backhoe Kit
MIDGET600K

Can do many earth moving jobs; trenching, excavating and landscaping, with about two
tons of ripping force!
This machine is heavy duty built & computer designed, it can crawl itself
on the job site.
Powered by 5 or 5.5 HP engine
It weights over 550 pounds and
can be towed by any small truck,
car , 4 wheeler or small tractor.
The outriggers & back wheels are adjustable, that machine can
crawl in a narrow space
of 3-½ feet wide.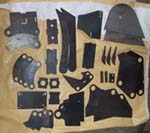 CDP-Backhoe does not have any warranty stated & it is the responsibility of the builder to have all liability for the building
safety & operation of the machine. We are not responsible for any misprint errors that may occur. cdp-backhoe®2002-2012