\


The Laser Starting Kit Backhoe Model
3PH-MID600K (plan has 37 Pages)
Laser starting kit 41 Plates, approx. weight 100 Lbs
Plan has specs, bill of material,
list of steel, 2D & 3D drawings,
and step-by-step assembly instruction.

3PH-MID600K
Cat. 1 Backhoe.
Price $899
Shipping $189 for Canada
& $299 for USA
Plan alone cost $199
+ shipping $15

CATEGORY 1 BACKHOE
Digs down 7 ft & dump at approx. 6 ft
Swing 110 degrees
Bucket reach 8 feet | weight 400 lb
Bucket 11" wide, Ripping force 2 tons
With Manual Outriggers
This backhoe tractor is very compact and heavy duty built. All pins have their own grease fittings.

3PH-MID600K Specification


The Backhoe Kit
3PH-MIDGET600K

Can do many earth moving jobs; trenching, excavating and landscaping, with about two
tons of ripping force!
This machine is heavy duty built & computer designed.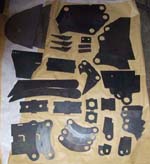 CDP-Backhoe does not have any warranty stated & it is the responsibility of the builder to have all liability for the building
safety & operation of the machine. We are not responsible for any misprint errors that may occur. cdp-backhoe®2002-2012
LASER METAL STARTING KIT & PLANS